Tramigo Landmark Data
Tramigo Landmark Data (TLD) is exclusively available in Tramigo tracking devices.
Tramigo includes built-in Tramigo Landmarks, which help users locate their Tramigo by utilizing practical and easy-to-understand local landmarks. A Tramigo user does not need to understand or study complicated maps and coordinates, just local landmarks. Tramigo landmarks are updated several times per year and are available for every country in the world.
Everybody Understands
TLD Landmarks
Since most people understand local landmarks better than traditional and complex maps, Tramigo landmarks make usage of tracking so easy and fast that anybody, anywhere in the world, can really benefit and enjoy using Tramigo tracking device.
TLD includes commonly known local landmarks that are carefully selected and updated to provide the best possible local understanding for Tramigo use. All cities, towns and villages + plenty of information-rich points of interest data, such as hotels, schools, hospitals, post offices, churches, shopping malls, passenger terminals, major interchanges, gasoline stations, government services, tourist attractions, toll gates, sport arenas, etc are included in Tramigo Landmark Data.
A Tramigo user can also add their own landmarks to complete TLD for the best possible personal, community and commercial usage.
Tramigo Speaks Human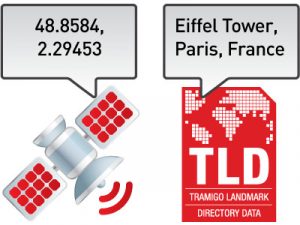 Your Tramigo device references its location to the nearest landmark – a public building, intersection, restaurant or other place you are likely to be familiar with – instead of just sending hard to understand GPS coordinates.
Landmarks vs. Street Mapping
Some tracking devices use street mapping and claim that by getting the exact street address, for example "87 Brompton Rd", you'll get a more accurate description of your device location. Not only does this require you to connect to a remote server to reference the data (once again, it won't work without Internet) it ignores the fact that you probably don't work at the post office and don't communicate places by their street numbering in everyday life.
Ask yourself: Do you know the street address of the store down the street, city hall or even your friend's house?
That's why most people choose the Tramigo Landmark "Harrods Department Store" rather than "87 Brompton Road".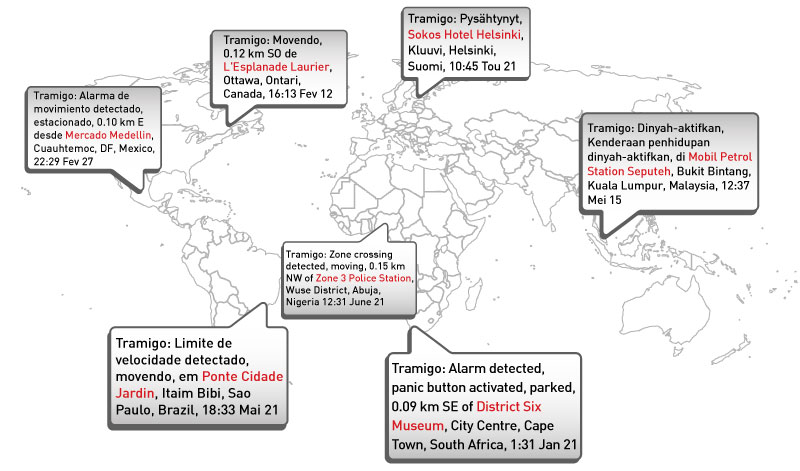 Tramigo Landmarks Work Where Maps Don't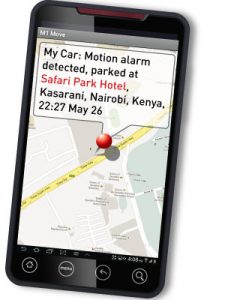 Because Tramigo Landmarks are preloaded and sent direct from your device, you'll be able to understand the location of your device even when you don't have Internet access to load maps.
With Tramigo, you'll still be able to view locations on top of maps but won't be dependent on them. We created Tramigo Landmarks so you don't have to zoom in and out of maps on small mobile device screens or lose track of your valued assets just because you lost connection.
Landmarks Make Communicating Locations Easier
If you are using tracking to guide and coordinate your company fleet, TLD landmarks will give you an easy way to relay locations over the phone to personnel in the field. Telling a courier to go to city hall is easy, but can you imagine saying that the next waypoint is at -1.457378',3.124990"?
Tramigo Landmark Data (TLD) FAQ
---
What is Tramigo Landmark Data (TLD)?
Tramigo landmarks are commonly known man made elements, such as buildings, hotels, theaters, museums, libraries, churches, hotels, schools, hospitals, post offices, shopping malls, passenger terminals, major interchanges, gasoline stations, government services, tourist attractions, toll gates, sport arenas etc.. Cities, towns, villages, and even natural points of interest, such as small islands, hills and lakes, can also be designated as landmarks if they have local geographical, historical or cultural significance. Tramigo Landmarks are carefully chosen and verified to give the best possible, easy-to-understand and localized answer for the question: Where is/are my tracking device, loved ones and important assets.
Are Tramigo landmarks available for my country?
Tramigo landmarks are available for every country in the world and cover the whole world, including all oceans.
What is the difference between a waypoint, a point of interest and a landmark?
Waypoints are commonly used to mark locations of personal interest, such as home, office or other personally important places. Point of interest data usually show a list of public locations, such as cities, villages and business related establishments with additional info.
Tramigo landmarks are point of interest types of information, since carefully selected and studied landmarks always includes plenty of intelligence and local significance. TLD includes only meaningful and useful landmarks for local tracking, navigation and orientation. Users' own places are more like waypoints.
How often does Tramigo update landmarks?
Due to the dynamic and chancing nature of landmarks, Tramigo is committed to continuous updates of its data to ensure the best possible quality of every TLD. Landmarks for every country are updated and verified several times every year.
How accurate are Tramigo Landmarks?
Tramigo does NOT generate landmarks from inaccurate and generalized third party data bases. Instead, every landmark is individually verified and geo-referenced making the accuracy of Tramigo landmarks extremely high; in fact the highest in the GPS Industry.
Why does Tramigo not show any detailed landmarks in my village?
Every TLD is optimized to cover all cities, towns, villages plus a maximum number of additional landmarks of all major cities and towns. If your own village does not have enough landmarks, you can add up to 500 of your own personal landmarks to your Tramigo.
How far are landmarks from each other (landmark density)?
TLD landmark density varies from capitals and major cities (30 meters – 2 kilometers) to rural areas where village density defines the distance of individual landmarks.
How can I give feedback about landmark data?
You can mail feedback and suggestions to tld@tramigo.com All feedback, suggestions and additional ideas are welcome and highly appreciated. We are always here to serve you and provide the best possible landmarks for your area and needs.