Tramigo B2B
Mission Critical Push-to-Talk Solutions
A communications solution
built for demanding environments
Improves your employees field productivity while reducing communication costs
Save time and reduce complexity when communicating with your field operations teams on the move. Reach everyone in the team instantly and reliably everytime.
Easy to use software allows you to conveniently connect with the right teams. Rugged handsets designed to last mean that you will be able to reliably connect with your employees in every situation. And you can always rely on Tramigo's multi-network connectivity for predictably cost-effective and stable connection no matter where you are.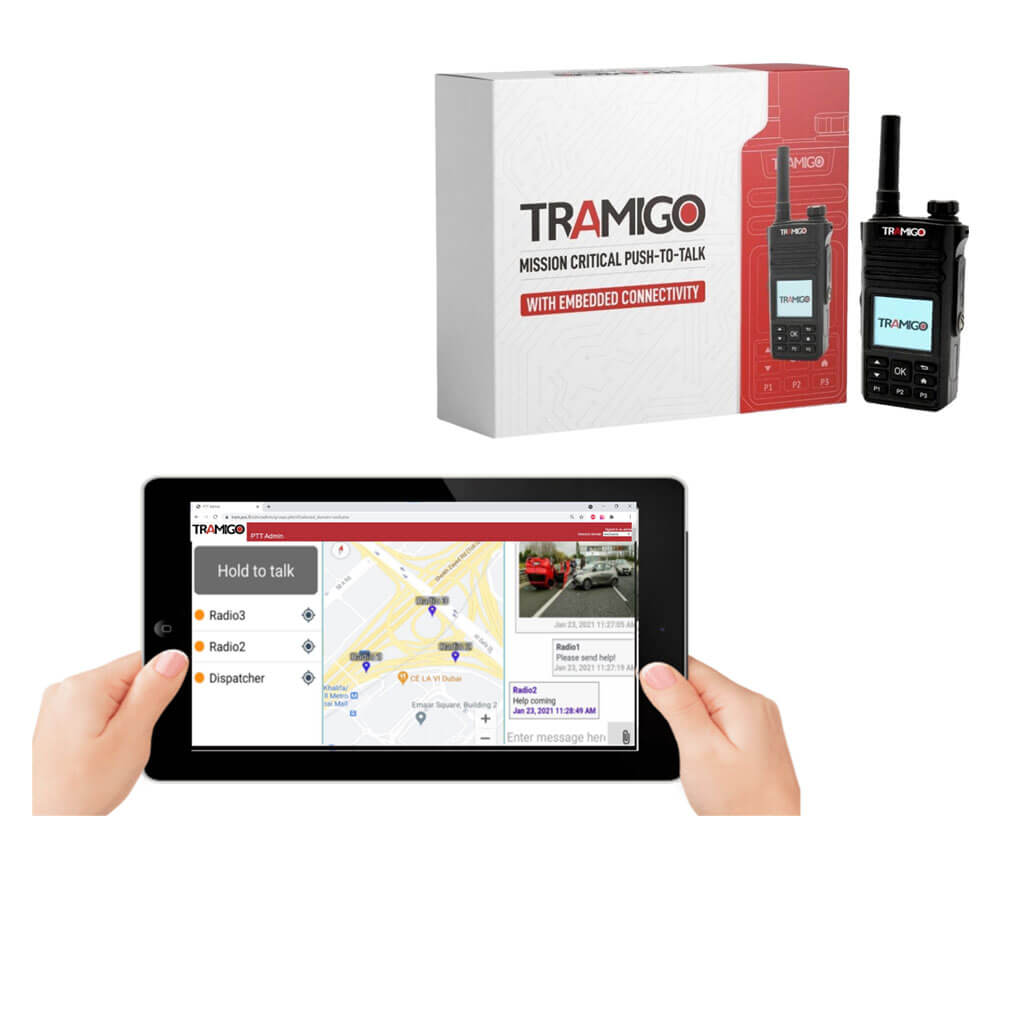 Mission Critical Push To Talk Solutions
Tramigo solutions are complete solutions that include handsets that are built to endure outdoor conditions, multi-network connectivity that makes sure you are always connected through the best available network and robust software to efficiently manage your communications.

Highest voice quality in PTT
Encrypted Communication

Reliable and secure in all conditions

Cost effective and scalable

GPS tracked handsets

Multi-network connectivity

2 choices of desktop software

Dispatcher App for smartphones
Easy to use software

to manage calls
Choose between web-admin, control center and mobile dispatcher based on your size of operations, needs and preferences.
Tough handsets

built for rugged use
Your staff will be able to use our durable devices with confidence in all field operations.
Stable high quality

voice connection
Delivered over multi-network connectivity across 700+ networks in 200 countries or regions.
Tramigo Push-To-Talk
handsets
Embedded SIM giving you
encrypted multi-network connectivity
AVAILABLE SOFTWARE OPTIONS
Tramig Mission Critical Push To Talk (MCPTT) solutions have three different software options you can choose from based on your intended use cases and team roles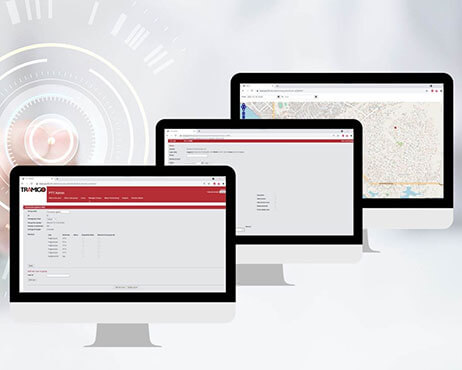 Web-Admin
User friendly Web-Admin interface allows creating, adding and removing users and groups.
Users and groups can be also created by uploading an excel file. All admin-functions are available over SOAP-protocol which allows to integrate PTT-management to company CRM and other business services.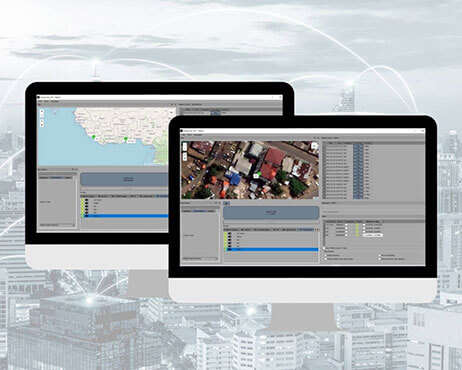 Control Center
The Windows PC MCPTT Control Center gives the possibility to monitor, track devices location, and communicate directly to devices.
Audio in/out and text-input can be integrated using standard devices and connections, including wired and Bluetooth. Windows Dispatcher support 1-8 monitors allowing flexible scalability from entry-level single-display system to 8-screen video-wall.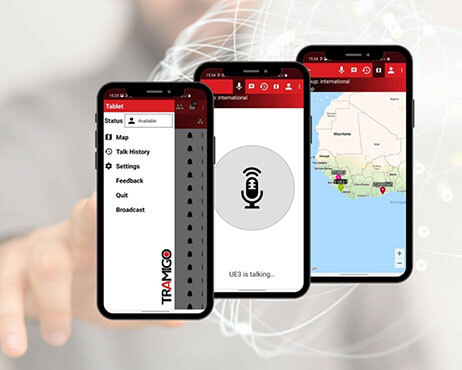 Mobile App Dispatcher
The Mobile App Dispatcher is compatible with Android and designed to allow communication with small groups and control center and track devices location as well.
Mobile app dispatcher also allows you to request for a call back from the devices.