Tramigo
4G vehicle tracker
Reliable, secure and convenient 4G vehicle tracking – any vehicle with 8V to 32V batteries
Track any vehicle

4G VEHICLE TRACKING
Advanced 4G tracking system connected through Tramigo 4G embedded SIM (eSIM) with multi-network connectivity provides real-time visibility over vehicles.
Track motorcycles, cars, vans or trucks and ideal for small business fleets and private customers
Thanks to the wide supported voltage range you will be able to use the Tramigo 4G vehicle tracker to track and secure any vehicle from motorcycles to heavy trucks and anything in between.
While it is true that 4G brings additional speed to the real time tracking and reporting featuresfrom end user perspective the real world benefits are marginal. The real reason why you would consider a 4G GPS tracker are related to the developments in your local or regional network technologies.
In most countries and regions 2G / 3G GPS trackers are adequate, in some countries these networks have already been depreceated. If the 2G/3G network in your area disappears your tracker will not be able to transmit data. This is why the Tramigo 4G Vehicle tracker supports both 2G and 4G networks.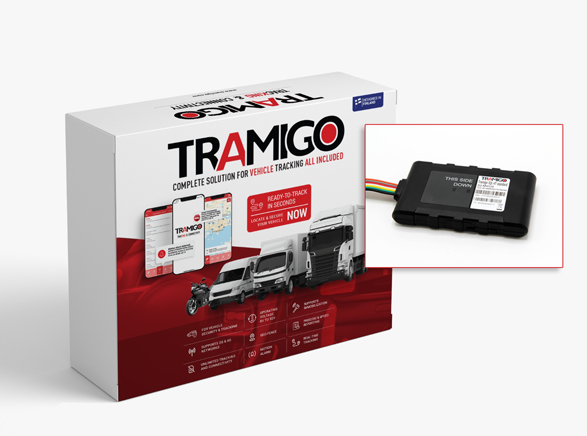 4G Vehicle tracker solution
4G vehicle tracking solution compattble with almost any vehicle. With a supported voltage range of 8V-32V this tracking solution is ideal for all vehicles (normal cars use 12V and trucks 24V batteries)

Supports 2G and 4G
Flexibly supports both networks, your device will be ready if your country sunsets the 2G network

Configurable alarms
Easily set and configure your preferred alarms through the App

Driver behaviour
Monitor driver behavior directly on your phone. get notified on all incidents.

Remote Immobilizer
Compatible with vehicle immobilizer for remote engine shutdown (immobilizer sold separately)

Configurable Geofencing
Detect unauthorized movement across cusstomizeable zones/areas

Configurable reports
Configure preferred perioding automated reports

Tramigo Landmarks
Easy to understand information about your vehicle locations with TLD landmarks when you use the Tramigo App or Cloud

Built-in eSIM
A complete tracking solution with built-in multinetwork eSIM, no need to buy local SIM
Tramigo 4G Vehicle tracker – Technical Specifications
---
Hardware Specifications

Dimensions: 3.43"(L) × 2.17"(W) × 0.49"(H) or (87× 55 × 12.5mm)
Weight: 1.76oz (50g)
Backup Battery: Li-Polymer 190 mAh
Operating Voltage: 8V to 32V DC
Operating Temperature: -30℃~ +80℃
(Storage temperature): -40℃ ~ +85℃
Interfaces

Digital Input: 1 positive trigger input for ignition detection
Digital Output: 1 digital output, open drain, 150 mA max drive
current
Configurable Input/Output: 1 special I/O can be configured as a negative
trigger digital input or an open drain output with 150 mA max drive current
Serial Port: 1 TTL UART port for upgrading and debugging
Cellular Antenna: Internal only
GNSS Antenna: Internal only
LED Indicators: CEL, GNSS