GPS vehicle tracking with advanced security
Secure vehicle tracking

for Private cars & SME fleet owners
Install covertly in normal cars, vans, tricycles, and tuk-tuks. Ready to go with built-in eSIM providing reliable multi-network connectivity.
T24 Track eSIM solution includes Tramigo app or Cloud service with global connectivity. With a wide selection of accessories to advance security features such as a backup battery, vehicle immobilization, and external SOS alarm button.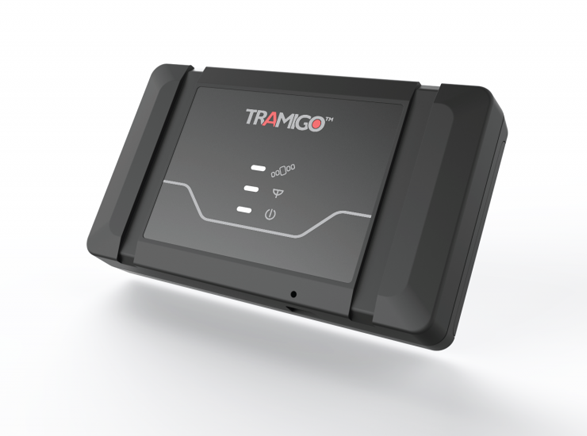 Optimized Vehicle Security and Tracking
The T24 Track is affordable and versatile. It supports 12V immobilizer to shut down vehicle engines and other embedded intelligence for enhanced vehicle tracking, security and monitoring.

Embedded intelligence
It can be used also without internet. This allows critical alarms to be received real-time even in limited network environments.

fleet management
Monitor your overall fleet performance and receive various reports and statistics in userfriendly visualized reports.

Driving habits
Detect idle engines, speeding, and other fuel consuming driving habits to reduce fuel costs and improve your fleet performance.

vehicle misuses
You can set up checkpoint alarms, have embedded and server-based geofences and up to 1 000 user-defined zones.

Vehicle Security
Immobilize your vehicle, detect ignition and motion to secure parked vehicles and unguarded assets.

Tramigo Landmarks
Communicate to your device in simple commands and get your reports in human readable, easy-to-understand format.

Easy accessories
A variety of accessories. For example SOS-Button to send the location of your vehicle in emergency situations.

Power reporting
The battery backup keeps you connected and send you notifications when the device gets disconnected or the battery is running low.
Secure any

car
The T24 is the perfect solution for personal use or for business purposes. Plus , T24 is compatible with normal cars, vans, tricycles, or tuk-tuks
Install

covertly
T24 device is discrete and easy to install so that drivers have no knowledge of the device. Using Tramigo software solutions, you can locate your driver's location and stops, to generate safer routes
Affordable

Pricing
With competitive pricing, Tramigo provides you with a complete solution that enables you to effectively manage your fleet and increase productivity
Tramigo T24 Track Technical Specifications
---
Hardware Specifications
Size: 100 mm x 60 mm x 21 mm
Weight without battery: 90 g
Weight with battery: 120 g
Temperature
Operating -20 to +80 ℃
Charging 0 to +45 ℃
GPS
GPS, GLONASS, Galileo, BeiDou supported module
Internal antenna, external optional
Cold Start: <35 s, Hot start: <1 s
Signal strength acquisition -147 dBm, tracking -163
GSM
Quad-band 850/900/1800/1900 MHz
Internal antenna
Multi slot class 10, Terminal B
Connection ports
USB – micro USB – power and data input/output
2.5 mm jack – microphone optional
GPIO – Molex 43045-1200
1 power, 1 ground
3 digital inputs,2 digital outputs
1 analog input and 1-wire interface supporting multiple sensors
Power
Input Voltage 12 DC
3.7 V, 1300 mAh, Li-Polymer inbuilt replaceable backup battery
Charging through USB or DC supply input
Typical power consumption 40-90 mA, standby 5 mA
Audio available only in special Edition of T24 Track
Remote listen function
Speed dialing to 3 pre-programmed numbers
Tramigo T24 series
supported connectivity options
You can optionally get the T24 with alternative connectiovity options
Need voice monitoring

and SMS on top of data?


T24 Track Classic
Data optimised multinetwork connectivity is great, but I need voice monitoring and SMS functionalities.
T24 Track Classic comes with a classic Tramigo plastic SIM just for this reason.
Contact us for more information on this alternative model.
Need to use your

Own SIM?


T24 Track Standard
Want to take advantage of the superior Tramigo hardware but you need to stay with a local connectivity provider?
T24 Track Standard without Tramigo connectivity options is suitable when your business requires a local national SIM card.
Contact us for more information on this alternative model.
FAQ: T24 Track eSIM
---
How do I know the IMEI of my unit?
There are several ways:

Send VERSION command to the unit.
Take out the battery and check the sticker on the unit.
Check the box of your T23 under the barcodes.

How do I take out the battery from the T24?
Press and slide the battery cover. Gently push the notch lock of the battery. Lift the battery out.
How long does it take for the unit to get its position?
With ideal conditions 1 to 2 minutes the first time you use the unit. The unit can re-establish its location in a few seconds.
What if I am outside GSM coverage area?
Your T24 will store up to 5000 events for data and 10 outgoing SMS messages until it is connected to the GSM network. Incoming messages to your T24 are stored in the GSM network.
Are Tramigo landmarks available for my country?
Tramigo landmarks are available for every country in the world.
How long does the battery last?
One day with constant usage and weeks with limited activity. This is determined by how much time the unit is sleeping.