From the world's leading tracking device manufacturer
OBD tracking

and diagnostics
All-in-one plug and play
Get started with
OBD vehicle tracking and diagnostics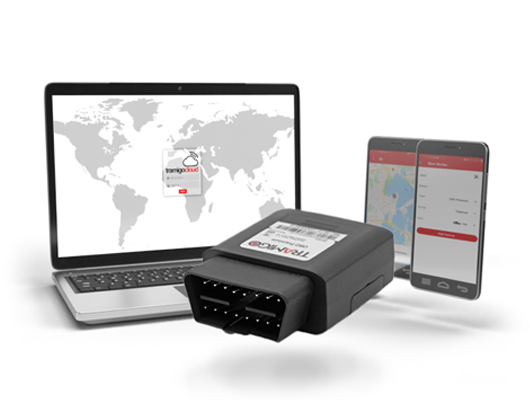 Read and reset DTC
Use your mobile app to read and reset diagnostic trouble codes (DTC).

E-SIM and other options
OBD comes with Multi-network eSIM card with global coverage built-in. Normal SIM version available also when required.

Plug & play tracking
Connect directly to your car's OBD port – no installation required.

Low data cost
Worldwide data coverage with regionally optimized cost packages available for eSIM Edition.

User-friendly mobile app
Track, diagnose and reset DTC directly on your mobile phone.

Accurate GPS
GPS tracking with accurate position and premium quality GPS receiver.

Real-time alerts
Wide range of driver behavior monitoring and geolocation alarms.

CAT M1 support
Tramigo OBD Premium is CATM1 ready.
Get started with
OBD vehicle tracking and diagnostics
Easy Plug&Play

Installation
Buy device with ready-to-go built-in eSIM connectivity – no installation required simply plug into your vehicle's OBD port
Track using

app or cloud
Use TramigoApp to add your device to your account and start tracking
12 months

data included
A year of multinetwork connectivity included after which you top up your connectivity data packages online
OBD Premium

Tracking features
✓ Geo-Fence  
✓ Outside working hours  
✓ Tow alarm  
✓ Speed Alarm  
✓ Excessive Idling Detection  
✓ Start/stop report  
✓ Harsh Behavior Monitoring  
✓ Crash detection 
OBD Premium

diagnostic Features
✓ Check engine lights  
✓ Fuel and air metering control  
✓ Auxiliary emission control  
✓ Body systems  
✓ Brakes and traction control  
✓ Network electrical  
✓ DTC reset  
✓ Engine condition  
✓ The battery voltage  
✓ Coolant temperature 
Tramigo OBD Premium product specifications
---
Hardware Specifications
Size: 49 mm x 48 mm x 22 mm
Weight: 58 g
Backup Battery: Li-Polymer, 60 mAh
Operating Voltage: 8V to 32V DC
Operating Tempreature: -20 to + 80 ℃
Operating Tempreature: -40 to + 80 ℃ for storage
BLE: Support BLW 4.2 protocol
GNSS Specifications
GNSS Type: u-blox All-in-One GNSS receiver
Sensitivity: Autonomous: -147 dBm
Hot start: -156 dBm
Reacquisition: -160 dBm
Tracking: -162 dBm
Position Accuracy: Autonomous 2.5m
TTFF: Cold start: 27s average
Warm start: 27s average
Hot start: 1s average
GSM
Frequency:850/900/1800/1900 MHz
Data Transmission:GPRS multi-slot class 33
EDGE multi-slot class 33
Get started with
OBD vehicle tracking and diagnostics
OBD Vehicle Health FAQ
---
Where can I find the OBD port in my car?
The OBD-II port is usually located under the dashboard, beneath the steering wheel. However, depending on the make and model of the car, finding the OBD-II may or may not be easy to locate.
Do I get notified is the OBD tracking device is pulled out/disconnected from the OBD port by someone?
Yes, the Tramigo OBD premium comes with an internal battery built-in. The battery automatically charges when the power is on and if disconnected it alerts if the device is pulled out and will continue to report its position for at least approximately 20 minutes
Does the OBD support Geofencing functionality?
Yes, Geofencing is supported. Use your TramigoApp to configure your preferred zones or areas. After configuration you get notified as the vehicle enters or leaves these zones.
I have a fault code on my dashboard. Can I use Tramigo OBD Premium to reset DTC codes?
Yes, use your TramigoApp to easily reset several fault codes to avoid unnecessary trips to the garage. Please keep in mind that resetting does not address the underlying reason for the code to be triggered.
Can I get notified or alerted if the driver is over speeding?
• Yes. You can get notified and you can also adjust the speed limit, which would report a overspeeding.
Will the Tramigo OBD Premium be visible in my car?
The Tramigo OBD premium comes with an enhanced security cable you can use to extend and hide the device.
Can I turn off the lights on the OBD so that it is completely in stealth mode?
Yes, you can shut down the indication lights through TramigoCloud or TramigoApp.
Are there any additional costs if my wife or my client drives to another country?
No. Tramigo OBD comes with built-in eSIM with multinetwork connectivity across 194 countries. Tramigo connectivity packages are tailored to cover the markets specified by the customer. With the multinetwork support your device would simply join the network of the new area you are moving in without additional costs
Get started with
OBD vehicle tracking and diagnostics