Secure valuable
construction machinery and equipment
Security and protection for your heavy machinery and valuable equipment
Track, locate
Protect and Care
When various valuable construction machinery or equipment, , have to be left in remote locations with little or no surveillance, they unfortunately become subject to the risk of vandalism and theft. From a business perspective, a missing or otherwise inoperative device is always both an unpleasant surprise and a significant financial risk, which can affect everything from schedules to potential contract losses.
Often, the business owner is also unable to accurately determine when, for example, a stolen piece of equipment was taken, thus significantly increasing the risk that the valuable machinery will not be quickly recovered.
The value of the equipment is known, and therefore investment can be made in it. However, when making investments, it is calculated on the assumption that the valuable machinery will be available and remain operational as planned.
Tramigo's versatile tracking solutions provide business owners with security and peace of mind. With our systems, you will receive automatic notifications, for example, of unauthorized operations and may choose to koll the engine remotely if necessary.
Risks to your business
when your valuable construction machinery

gets stolen
Benefits to your business when
equipping your heavy machinery and equipment

with Tramigo equipment:
GPS tracking solutions
include
A GPS tracking device with built-in data connection and a mobile app that enables monitoring and control
The price of the solution includes
a 12-month data connection for unlimited tracking.

Subsequent usage is €39 per year.
Choose a GPS tracking device to be installed in your machinery or equipment.
Options include two devices that are permanently installed to the power source and one battery-operated GPS tracking unit with magnetic attachments.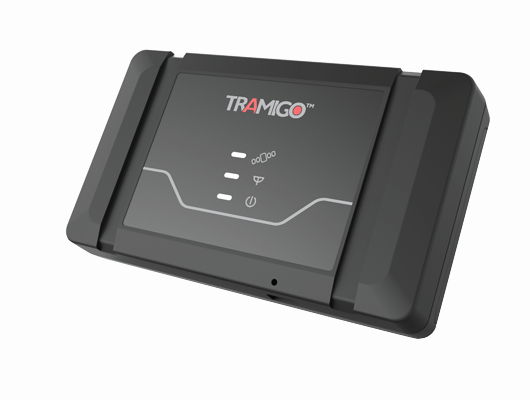 T24 Track eSIM
A GPS tracking device that is permanently installed to the power source and enables remote engine immobilization.
Operates on a 2G network. Compatible with 12V – 24V batteries. Suitable for most types of machinery.
Recommended for use in temperatures ranging from -20℃ to +80℃.
Provides the owner with detailed reports on machine usage, including fuel consumption, power consumption, and battery voltage level reporting. Automatic alerts are included.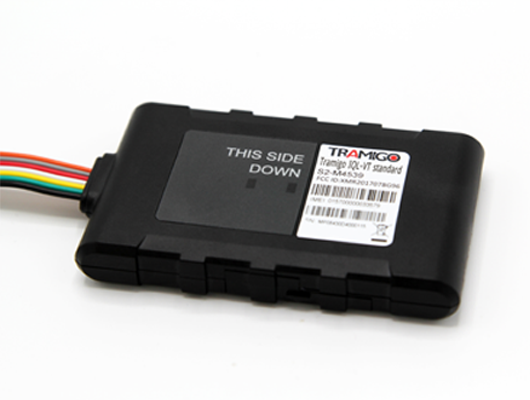 4G vehicle tracker
A GPS tracking device that is permanently installed to the power source and enables remote engine immobilization.
Works on 2G-4G networks. Compatible with 8V – 32V batteries. Suitable for almost all battery-powered machinery and equipment.
Narrow and slim design for easier concealment. Allows operation in extreme conditions (-30℃ to +80℃).
Offers extensive location and usage reporting capabilities. Automatic alerts are included.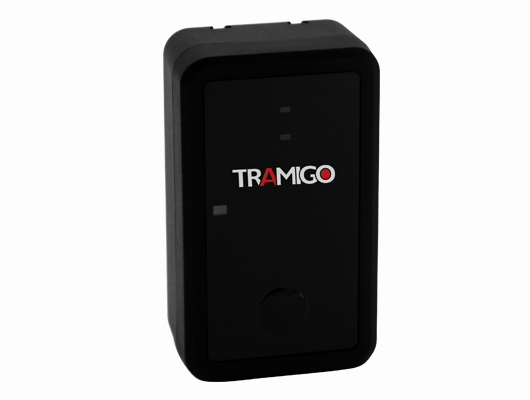 Asset tracker
No permanent installation required. Plug & Play. Easily concealable. Attach the durable and waterproof device to the machinery using the included magnet (a sturdy Velcro strap attachment is also included).
Easily transferable from one device to another.
Wireless battery charger included in the sales package. Battery life up to one year, with typical settings lasting 3-6 months under normal usage.
Enables location and geolocation reporting. Automatic alerts are included.
A comprehensive solution includes
a GPS tracking device that suits your needs, a smartphone application, and an affordable data connection.
An all-inclusive solution without unexpected hidden costs.
Tramigo tracking devices are always delivered with built-in eSIM multi-network connections, which provide the most affordable data connections in the market for the devices. The price of the device always includes unlimited data connections for one year during the use of the system. Location and data connections also work in cases where the target has been transported across borders.
Tracking and management are done through the user-friendly Tramigo smartphone application, which can be downloaded directly from the Android and iOS app stores. The buyer of the device receives a unique activation code to be entered into the application during the purchase process. With the mobile application, you can perform all the necessary tracking and monitoring. If you have chosen a device that is permanently installed and supports remote immobilization, this can also be done directly through the smartphone application.
Tramigo offers turnkey solutions, and for devices requiring fixed installation, Tramigo arranges local installation (or provides support for self-installation).
Manage and track your equipment
using your phone
Any questions?
Check out the frequently asked questions for more information.
Frequently Asked Questions about GPS tracking for construction machinery and heavy equipment
---
What does the tracking solution include?
The solution consists of a reliable GPS tracking device with a built-in eSIM mobile data connection and a user-friendly mobile application designed for the solution. The price of the device includes unlimited usage for 12 months, and additional years can be purchased for €39/year. The buyer chooses the most suitable tracking device based on their needs, and depending on the selected device, the solution is either ready for use immediately after the application installation or the tracking device is permanently installed on the work machine. For fixed installations, the customer can perform the installation themselves or have it done by Tramigo's local partner for an additional fee.
How do I choose the most suitable tracking device for me?
Choose the tracking device that best suits your purpose. For permanently installed devices, the device is connected to the machine's battery, and during installation, connections enabling remote immobilization of the engine are also made. The T24 Track eSIM device supports 12V-24V batteries, making it suitable for both personal and commercial vehicles. The 4G vehicle tracker supports 8V-32V batteries and is compatible with virtually all motorized vehicles and machinery. Due to its cold tolerance, the 4G vehicle tracker is also better suited for extreme conditions in northern regions. The Asset Tracker does not require permanent installation and is a portable device with its own battery that can be easily attached and transferred between equipment. Models that are permanently installed offer more versatile functions and features through their connections.
The Asset Tracker includes its own battery and does not require a separate power source. How long does the battery last on a single charge?
The battery life of the Asset Tracker depends on the user's settings, which are managed through the mobile application. With typical settings, where the Asset Tracker sends its location once a day and updates the location automatically every 10 minutes when a change is detected (e.g., the equipment is being moved or transported), the battery can last approximately 3 months on a single charge, assuming frequent movement. The sales package of the Asset Tracker includes a wireless charger for convenient charging when needed.
How can I be notified of unauthorized use or theft?
The device owner can set up various restricted operation areas through their mobile phone. If the device moves outside the defined area, the owner will receive an automatic alert on their mobile phone according to the settings they have configured in the application. Multiple customized zones can be created and modified according to individual needs. For devices connected to the battery, they can also be set to automatically send alerts whenever the device is powered on.
Are you interested?
Contact Tramigo Solutions Sales.