Tramigo B2B
vehicle tracking solutions for businesses
Track your vehicle fleet
in real time
With a user-friendly interface, optimize movements, enhance customer experience, and extend the lifespan of your vehicles.
With a simple visual interface, you can monitor and manage the movement of vehicles on the field in real time between customer locations, alongside your other tasks. You can also easily detect various anomalies such as unauthorized use and theft. In case of theft, you also have the ability to locate and remotely stop your vehicle if needed.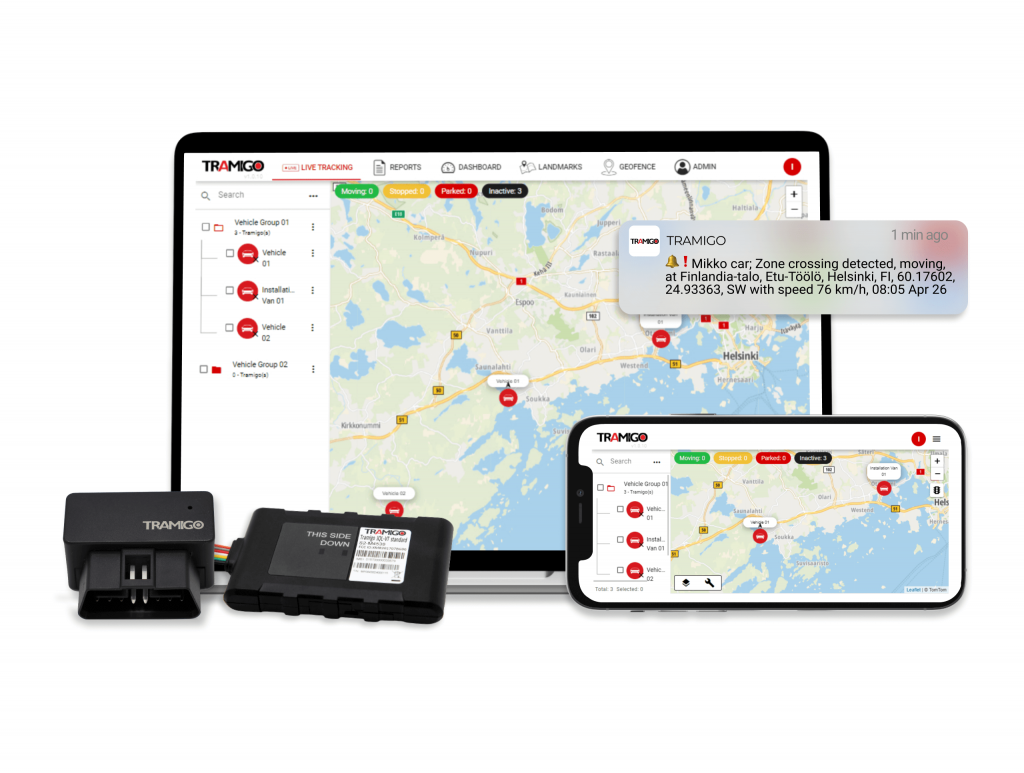 Vehicle tracking convenience
A user-friendly GPS tracking solution that allows you to conveniently manage your company's vehicle fleet movements on the field in real time, directly from your mobile phone.

Easy to implement, effortless to use

Easy mileage logging and reporting

Prevent unauthorised use and secure against theft

Monitor driving habit and care for your vehicles
Monitor driving style and

maintenance intervals
Monitor driving styles that strain the engine and prolong the lifespan of your fleet.
Easy

reporting
Track routes and locations and download reports in an instant
Identify and prevent

unauthorized use
Receive automatic notifications if the vehicle leaves the designated area, remotely shut down the engine if needed.
Selection of GPS tracking devices
to match your company's needs
Your company's needs are unique, which is why it is important to be able to choose a tracking device that serves your specific requirements.
When securing valuable

equipment counts


Vehicle Tracker
Tramigo Vehicle Tracker is a GPS locator that is permanently installed into the vehicle's power source, enabling remote engine immobilization.
The device is compatible with voltage ranges of 9V-32V batteries, making it suitable for almost all vehicles.
Easy to install yourself, you can also use Tramigo's installation partner.
I want to easily change

tracked vehicles


OBD Standard
Tramigo OBD Standard is a compact and versatile GPS tracking device.
You can install the device in seconds by connecting it to the vehicle's OBD port.
An affordable option for all your vehicle tracking needs. Plus, it's a device you can effortlessly switch between vehicles.
Use with your
mobile phone, tablet, or laptop
Visual user interface and versatile features
Everything you need
in one flexible solution
Track and report with a single system on the things that matter to you
Get everything you need directly from one supplier. Fleet management ensures reliable reports for invoicing, accounting, and tax authorities while taking better care of your assets. Quick and easy implementation, no hidden costs, and the option to choose GPS devices with at least 12 months of unlimited ready-to-use service. In the future, you can purchase data packages directly from Tramigo at a fixed price of €39/year.
Frequently Asked Questions about our vehicle tracking solution
---
What is included in the tracking solution?
The solution includes your chosen GPS tracking device, user-friendly software, and 12 months of unlimited data connectivity. The buyer selects the tracking device that best suits their company's needs.
What is the difference between the GPS tracking device options in the solution?
The tracking solution designed for small businesses revolves around two tracking device options. One of them is called Tramigo OBD Standard, which is an affordable plug-and-play style tracking device. It directly connects to your car's OBD port and is ready to use within minutes. For customers who prioritize vehicle security, there is also the option of Tramigo 4G Vehicle Tracker, which is permanently installed into the vehicle's battery and allows remote engine immobilization. Customers can choose to perform the installation themselves or utilize Tramigo's local installation partner for an additional fee.
How do I choose the most suitable tracking device for me?
Choose the tracking device that best fits your company's needs. Both devices offer the ability to conveniently locate and track vehicles directly from your mobile phone, as well as generate route reports for mileage logging. The most tangible difference lies in the security features enabled by the permanent installation. Contact our sales team for more information.
How do I know if there is unauthorized use or theft?
The device owner can use their mobile phone to set up restricted operating areas for the device. If the device exits the designated area, the owner will receive an automatic alert on their mobile phone based on the configured settings. Various operating areas can be created and modified according to individual needs. Models with direct battery connection can also be set to automatically trigger alerts whenever the device is powered on.
How can I purchase the Tramigo tracking solution?
If you can directly choose the most suitable device model for your purposes and feel confident in utilizing and using all the features correctly on your own, you can purchase Tramigo GPS tracking devices directly from Tramigo's consumer-oriented online store at eu.tramigo.store. For business purchases and inquiries, you can fill out the contact form at the bottom of the page or contact us via email at myynti@tramigo.com or by phone to our sales manager, Paul Cederberg, at +358 500 962 814