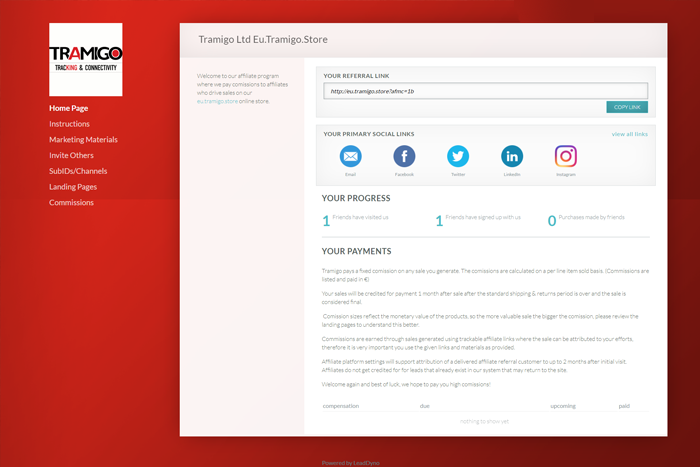 Earn money online with Tramigo Direct Affiliate Program
Earnings opportunity for Affiliate Marketers.
Tramigo has launched a new webstore for the customers who live in the EU region (Specifically: the 27 countries of the European Union , the United Kingdom and Switzerland, French Guyana, Gibraltar, Guadeloupe, Iceland, Liechtenstein, Martinique, Mayotte, Norway, Reunion).
The webstore is located at: https://eu.tramigo.store/
Available at the webstore are original Tramigo products suitable for both individual consumers (B2C) as well as small business users (B2B). To coincide with the new webstore launch, Tramigo is offering an opportunity for interested affiliate marketers to earn money through referrals. Affiliates who drive succesfull sales to the webstore will receive a comission based on the amount and volume of products sold.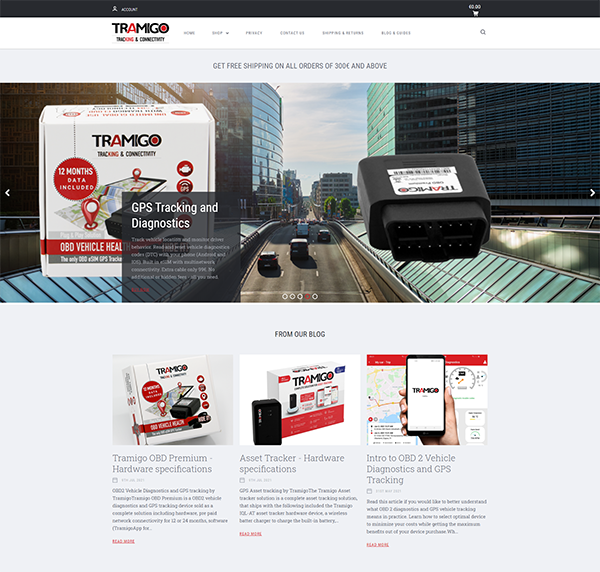 The Tramigo EU webstore sells currently 3 types of products:
(Products included in the Tramigo direct affiliate program)
Tramigo OBD Premium: Tramigo's market leading OBD2 Vehicle Diagnostics and GPS Tracking solutions, available for purchase with prepaid network connectivity for 12 months or 24 months. These solutions are shipped with everything users will need, with no additional hidden fees or additional monthly charges. Included in the sales package are the OBD2 vehicle diagnostics and GPS tracking device (with built-in eSIM with users choice of prepaid connectivity plan), an additional extension cable to support covert installations and user manual. Customers can download the TramigoApp, mobile application compatible with IOS, Android and Huawei devices and recieve their unique activation codes with which they may activate and link their OBD2 tracking devices. The OBD premium can also be bought in bulk and bulk customers will also receive a TramigoCloud fleet management software subscription free of charge. (View the Tramigo OBD Premium product selection here).
Tramigo Asset Tracker: Tramigo's new compact and portable asset tracker requiring no installation, equipped with a built-in eSIM and and battery with up to 1 year operating time. The Tramigo Asset Tracker also ships with a convenient wireless charger for recharging the battery when required. Users can monitor and locate their devices directly on their mobile phones using the TramigoApp smartphone tracking application. (view the current Tramigo Asset Tracker product selection here)
Tramigo FCT GPS Vehicle Tracker: Tramigo's most affordable tracker to date is small in size but packs a punch. Connect to batteries between 9V – 90V meaning you can use this tracker on almost any conceivable vehicle. Specifically designed to be both small in size and affordable, making it an ideal GPS tracking device for all kinds of light motor vehicles and low cost vehicles (so think tuktuks, vespas, motorcycles, ATV's etc). As usual you track using your TramigoApp on your mobile phone and the devices are sold as complete solutions meaning you have your 12 months of unlimited tracking included. No actiavation fees, no surprise charges, the subsequent years are currenty priced at 32€/year and you can purchase them directly through Tramigo. (view the Tramigo FCT GPS Vehicle Tracker product page here.)
Tramigo Y5 Personal Tracker: This is a pocket sized GPS tracker for tracking humans. its designed to resemble a set of car keys so its likely to pass unnoticed when attached to your keychain. Unike any other Tramigo product, this tracker is designed to track location even indoors. The Tramigo Y5 personal tracker uses a powerful combination of GSM, WiFi (WPS: WiFi Positioning System), and GPS positioning for more reliable results. 3G is crucial in crowded mega-city centers, while 2G provides coverage in remote and isolated locations. Tramigo Y5 also utilises GSM positioning to ensure locating your loved ones in complex environments. WPS positioning is provided in partnership with Google, and it is the perfect solution for urban areas where GPS signals do not penetrate buildings effectively. In the unfortunate case of an emergency, pressing three times on the SOS button will send the device location to the linked device. Tracking is done on your smartphone using the Tramigo Y5 App. This is the perfect solution for anyone looking to provide extra security for their family and loved ones. (view the Tramigo FCT GPS Vehicle Tracker product page here.)
(Products NOT included in the Tramigo direct ffiliate program)
Tramigo IOT SIM cards: Tramigo's IOT SIM cards are the most affordable way for businesses to connect their devices to the network. With 250MB monthly data companies can safely cover most use cases in the IOT industry. For the moment the IOT SIM cards are not included in the Affiliate program. (View the current Tramigo IOT SIM card selection here)
The Tramigo Eu.Tramigo.Store webstore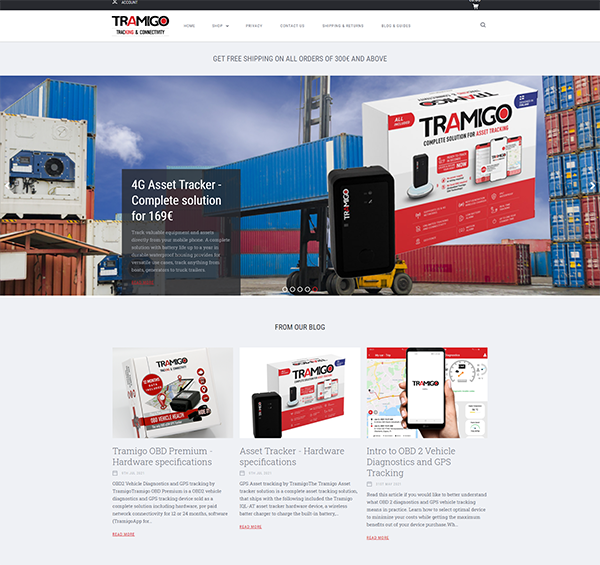 Currently the Tramigo webstore products are aimed at Tramigo's EU based customers. This is reflected by the network coverage of the prepaid connectivity packages included. While technically each product can be set to support global coverage, for the purpose of end user cost-optimization Tramigo has restricted the network coverage as follows: 90 networks in 38 countries or areas. On average over 2 networks per market. Countries covered are the 27 countries of the European Union, the United Kingdom and Switzerland, French Guyana, Gibraltar, Guadeloupe, Iceland, Liechtenstein, Martinique, Mayotte, Norway, Reunion.
The Tramigo Affiliate Program
Those interested in becoming Tramigo affiliates can apply to join the Tramigo affiliate program through this link. The webstore is is built with bigcommerce and accepts multiple forms of payment including the most common credit cards and PayPal. The affiliate program is powered by LeadDyno affiliate software which handles all the affiliate tracking and provides the affiliates with uptodate statistics on their performance and comissions.
Comissions are paid monthly, at the latest around 40 days after the sale (the rough maximum of how long payment may take). Payment is made once the sale is considered final, at the beginning of that following month. So a purchase at the beginning of the month will likely result payment at the start of the following month, where as a purchase made towards the end of the month (let's say August 20th) may result in payment at the beginning of October since customers have 14 to return of their product for a refund (a sale is considered final/qualified after the 14 day period is over, we ship using trackable shipping methods only). Currently no minum payment treshold is set, allthough we may set limits on very small amounts to reduce unnecesary bank fees for either party.
Comission amounts vary and grow depending on the product prices and start from 10€ per sale.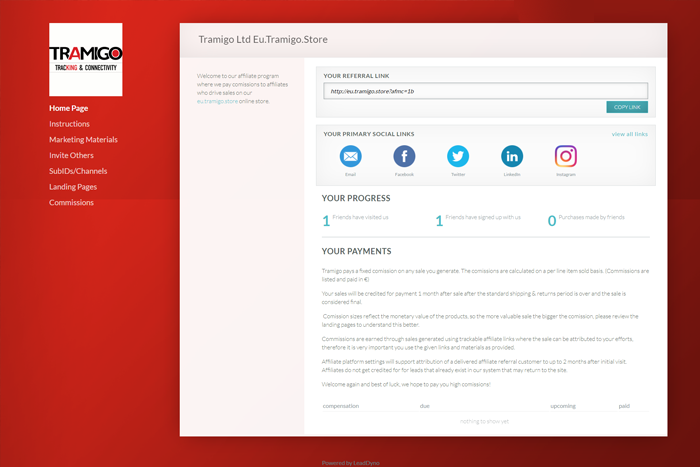 Once affiliates apply on the affiliate platform, all the particular and details of the program will be available in the back end. Also any new products and their respective comissions will be automatically available on the platform. Each affiliate accepted to the program will receive their own unique tracking id which must be included in their referrals in order for Tramigo to be able to track and pay comissions. All Tramigo affiliates are required to agree to the Tramigo Affiliate program Terms and Conditions an will also be subkjected to the Tramigo webstore privacy policy. Both documents are available for viewing below. Tramigo does not allow any dishonest or misleading promotion from the accepted affiliates. Tramigo is willing and dedicated to support affiliates by producing and providing content and assets to support affiliates in their efforts. The Affiliate platform includes custom banners and social media sharing links provided for the affiliates. Tramigo will continue to create new content on the webstore blog aimed at communicating the unique features and benefits that make the available products the most trusted and reliable equioment and provide users with best value for money. This content will include pricing and feature breakdowns that help clarify to end users the differences between products currently available on the market.
The Tramigo Direct Affiliate Program Agreement Terms and Conditions
(These terms anbd conditions are available on the affiliate platform. Each affiliate will be required to accept these terms and conditions during the sign up process)
These are the terms and conditions for joining our Affiliate Program. The terms of this agreement are subject to change without prior notice, but we will try to notify you of such changes in advance.
1. Applying for our Program
You are applying for our Affiliate Program right now. We reserve the right to decline or remove enrollment from our program at our discretion. As soon as your application is accepted, you can start sharing your affiliate link and earning affiliate commissions.
2. Affiliate Commissions
Your affiliate dashboard is unique to you. It contains everything you'll need to promote our site and our product, including:
Your affiliate link
One-click sharing to social media
Banner ads
And more sharing resources (affiliates are also encouraged to reach out to Tramigo through the platform and suggest ideas for additional content requirements and Tramigo will evaluate and support the best requests as appropriate)
You can also access your affiliate dashboard by downloading the Affiliate Dashboard by LeadDyno app to your iPhone or Android smartphone.
As you send traffic to our website via your affiliate link, you will receive credit for each purchase you send our way. Your progress for each referral will be reflected in real-time on your affiliate dashboard.
Each link provided by the platform has an Affiliate ID attached. We can't track your sales and traffic without you posting the full URL, so please be sure to use your affiliate link. Our social sharing shortcuts have your affiliate link embedded in their posts.
When a prospect visits our site from your affiliate link, we will be able to register their purchase (if/when they make one), and credit the sale to you.
As your referrals generate sales, you will earn affiliate commissions. Please contact our affiliate manager for the most up-to-date commission amounts.
Commission checks are issued once a month 40 days after the sale. This is to make sure that the customer doesn't return the product during our money-back period. We can pay you via company check, or via PayPal, whichever you prefer.
3. Restrictions
a) Currently the webstore sells products that have been configured to provide optimal service for EU based users. This is something affiliates need to take note in their marketing to avoid a bad user experience and product returns.
While technically Tramigo can support the whole globe for the moment we have restricted the products functionality regionally. (Covered regions: 27 countries of the European Union , the United Kingdom and Switzerland, French Guyana, Gibraltar, Guadeloupe, Iceland, Liechtenstein, Martinique, Mayotte, Norway, Reunion). This is because global coverage will add fees to end users (legal and network fees that vary across regions), and unless a customer specifically wants to use the product outside the specified region, there is no need for him/her to bear the cost. Tramigo can unlock any product to work globally on request.
b) At the moment Tramigo is not restricting the use of search engine marketing (PPC) but this is subject to change. Affiliates will be given notice by email 14 days in advance.
4. Disclosures
The Federal Trade Commission (FTC) has endorsement rules in place for affiliate marketing. In short, they want you to disclose that you have a business relationship with us when you promote and post your link. You can read the full FTC rules about affiliate marketing here.
When posting or sharing your link, you should make it known to your readers and followers that you will receive compensation if they buy a product via your link. This declaration should be clear and conspicuous (and reiterated as needed).
5. Terminations
We can end this relationship at anytime, and so can you. This affiliate agreement has been designed to ensure the highest quality relationship between us. Hopefully we have demonstrated our obligations for you to become a highly prosperous Affiliate.
Tramigo Eu.Tramigo.Store Privacy Policy
This Privacy Policy governs the manner in which Tramigo Ltd collects, uses, maintains and discloses information collected from users (each, a "User") of the https://eu.tramigo.store/ website ("Site"). This privacy policy applies to the Site and all products and services offered by Tramigo Ltd.
PERSONAL IDENTIFICATION INFORMATION
We may collect personal identification information from Users in a variety of ways, including, but not limited to, when Users visit our site, register on the siteplace an order and in connection with other activities, services, features or resources we make available on our Site. Users may be asked for, as appropriate, name, email address, mailing address, phone number, credit card information,
Users may, however, visit our Site anonymously.
We will collect personal identification information from Users only if they voluntarily submit such information to us. Users can always refuse to supply personally identification information, except that it may prevent them from engaging in certain Site related activities.
NON-PERSONAL IDENTIFICATION INFORMATION
We may collect non-personal identification information about Users whenever they interact with our Site. Non-personal identification information may include the browser name, the type of computer and technical information about Users means of connection to our Site, such as the operating system and the Internet service providers utilized and other similar information.
WEB BROWSER COOKIES
Our Site may use "cookies" to enhance User experience. User's web browser places cookies on their hard drive for record-keeping purposes and sometimes to track information about them. User may choose to set their web browser to refuse cookies, or to alert you when cookies are being sent. If they do so, note that some parts of the Site may not function properly.
HOW WE USE COLLECTED INFORMATION
Tramigo Ltd collects and uses Users personal information for the following purposes:
To improve customer service
Your information helps us to more effectively respond to your customer service requests and support needs.
To personalize user experience
We may use information in the aggregate to understand how our Users as a group use the services and resources provided on our Site.
To process transactions
We may use the information Users provide about themselves when placing an order only to provide service to that order. We do not share this information with outside parties except to the extent necessary to provide the service.
To send periodic emails
The email address Users provide for order processing, will only be used to send them information and updates pertaining to their order. It may also be used to respond to their inquiries, and/or other requests or questions. If User decides to opt-in to our mailing list, they will receive emails that may include company news, updates, related product or service information, etc. If at any time the User would like to unsubscribe from receiving future emails, we include detailed unsubscribe instructions at the bottom of each email or User may contact us via our Site.
HOW WE PROTECT YOUR INFORMATION
We adopt appropriate data collection, storage and processing practices and security measures to protect against unauthorized access, alteration, disclosure or destruction of your personal information, username, password, transaction information and data stored on our Site.
Sensitive and private data exchange between the Site and its Users happens over a SSL secured communication channel and is encrypted and protected with digital signatures.
CHANGES TO THIS PRIVACY POLICY
Tramigo Ltd has the discretion to update this privacy policy at any time. When we do, revise the updated date at the bottom of this page,. We encourage Users to frequently check this page for any changes to stay informed about how we are helping to protect the personal information we collect. You acknowledge and agree that it is your responsibility to review this privacy policy periodically and become aware of modifications.
YOUR ACCEPTANCE OF THESE TERMS
By using this Site, you signify your acceptance of this policy and terms of service. If you do not agree to this policy, please do not use our Site. Your continued use of the Site following the posting of changes to this policy will be deemed your acceptance of those changes.
CONTACTING US
If you have any questions about this Privacy Policy, the practices of this site, or your dealings with this site, please contact us at:
Tramigo Ltd, https://eu.tramigo.store/ , TRAMIGO LTD, OTAKAARI 5, 02150 ESPOO, FINLAND, Tel. +358 50 475 4606, info@tramigo.com
View our affiliate program listed here:Affiliate Seeking