Secure, track and monitor valuable assets and equipment
Track any asset

anywhere
Conveniently track your assets using your mobile phone or on a computer by pairing your device with the Tramigo App or Tramigo Cloud software.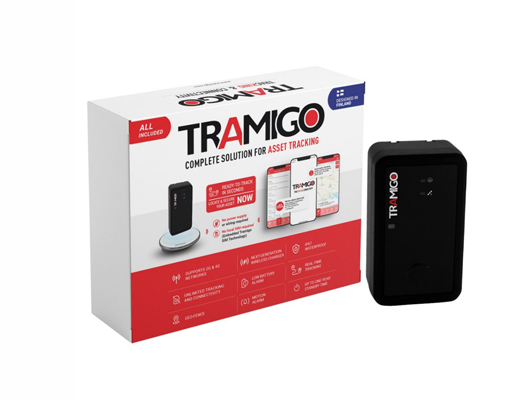 ASSET TRACKER FEATURES
Tramigo Asset tracker compact tracking device requires no installation and comes with built-in eSIM meaning it's ready to go right out of the box. Equipped with an ultra-long-lasting internal battery (up to 1 year depending on your settings) with the device encased in a waterproofed durable plastic casing (IP67) means it is easy to place covertly without having to worry about the tracker breaking down or malfunctioning even over long tracking periods.

No installation required
A stand alone device with built-in batteries and eSIM connectivity.

Super long battery life
Rechargeable batteries lasting up to 1 year depending on your settings.

Geo-fence alarms
Configure your tracker to alert you if asset moves from or to designated sectors.

Motion detection alarms
Configure tracker to detect if your asset starts moving or is pushed to prevent theft.

IP67 WATERPROOF
Enjoy care free tracking with a durable waterproofed casing combined with long battery life.

Small size – easy to hide
Compact size (87x51x30mm) makes for easy concealment and versatile use cases.

Versatile use cases
Compact and durable. Track anything from construction equipment to live stock.

Minimal Data Costs
Choose your preferred regional, continental or global coverage package and enjoy care-free roaming
Track and secure

Any asset
Compact, durable and waterproof means you can track just about anything
Long

battery life
Built-in battery lasts up to 1 year depending on users preferred tracking settings
Worry-free

global coverage
Regionally optimized data plans (select based on preference from region to continent or even global). Data usage optimized for global tracking with low data costs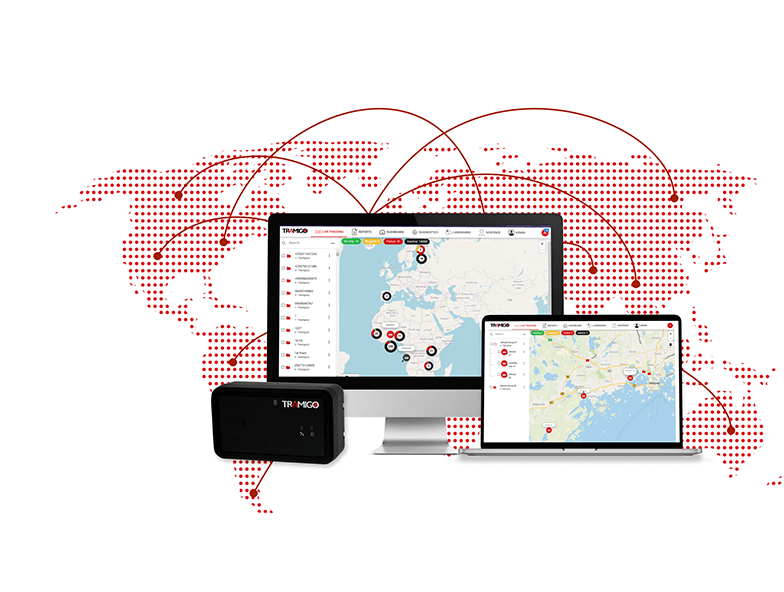 Global connectivity

and data coverage
Owners do not have to worry about connectivity or data cost issues even if the asset is crossing country borders across the globe. Tramigo's CAT-M1 devices are 5G ready and come equipped with global embedded connectivity with data usage optimized for tracking purposes.
For customers in other regions, Tramigo connectivity supports over 700 networks in over 200 countries globally, please contact Tramigo and we will deliver you a device configured with a regional plan. Global plans are also available.
Multi-Network
Regional Connectivity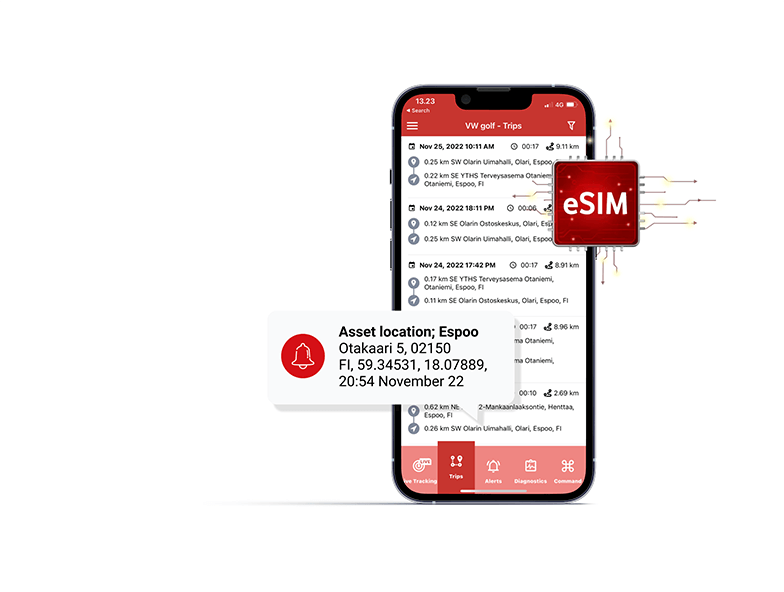 Embedded connectivity

Tramigo eSIM
SIM cards designed to be used in IoT hardware solutions on 2G, 3G, 4G, 5G or CAT-M1 networks.
Tramigo IoT SIM provides seamless multi-network and cross-border connectivity. 
Our IoT SIM option provides widest global coverage and the data plan rates have been optimized to be highly competitive across different continents. 
Contact us for more information about Tramigo IoT SIM and Connectivity
Tramigo Asset Tracker FAQ
---
How often do I need to charge Tramigo Asset Tracker?
The Tramigo asset tracker is equipped with a rechargeable battery with what you could call an ultra-long battery life. The whole device is optimized to maximize the battery life and depending on your settings you can achieve battery life of up to 1 year. Typical range between recharging is between 3 months to a year depending on the preferred tracking settings used.
Can I track assets and equipment not connected to a power source?
Yes absolutely. While Tramigo can provide you with an option to connect your tracking device to a power source like a vehicle battery, the Tramigo Asset Tracker has been specifically developed to include a long lasting battery that does not need any external power source.
Do I need a SIM card with Tramigo Asset Tracker?
Tramigo asset tracker comes with built-in eSIM meaning you do not require additional SIM cards.
But can I still use it with my own SIM if I wanted to?
Yes, you can, if you wish to. The Tramigo Asset Tracker can also be operated with your own SIM card.
What does "the device comes with embedded global connectivity with data use optimized for tracking purposes" mean?
Tramigo asset tracker comes with built-in eSIM which offers global multinetwork connectivity. The device and functionality is designed to optimize data usage to keep usage at a minimum. Tramigo connectivity comes with multinetwork connectivity across 194 countries. Tramigo connectivity packages are tailored to cover the markets specified by the customer. With the multinetwork support your device would simply join the network of the new area you are moving in without additional costs in such a way that no roaming is required. This combination results in global tracking coverage but exceptionally low data fees for the users.
Is the Tramigo Asset Tracker suitable for marine yachts?
Definitely. The device has been designed to be as versatile as possible to support as many use cases as possible. Hence the compact durable and waterproof casing which in fact makes it great for tracking yachts.
Can I use the Tramigo Asset Tracker to track livestock?
Absolutely. With the long battery life and geofencing options it is ideal for tracking of live stock when used with a collar.