All-in-one OBD II tracker from the world's leading tracking device manufacturer
GPS TRACKING

Tramigo OBD Standard
Tramigo OBD Standard is the best tracking solution for basic tracking needs. This easy to self-install device, connects to the vehicle's onboard diagnostic (obd) port eliminating installation costs and headaches.  Sold as a complete solution with embedded eSIM.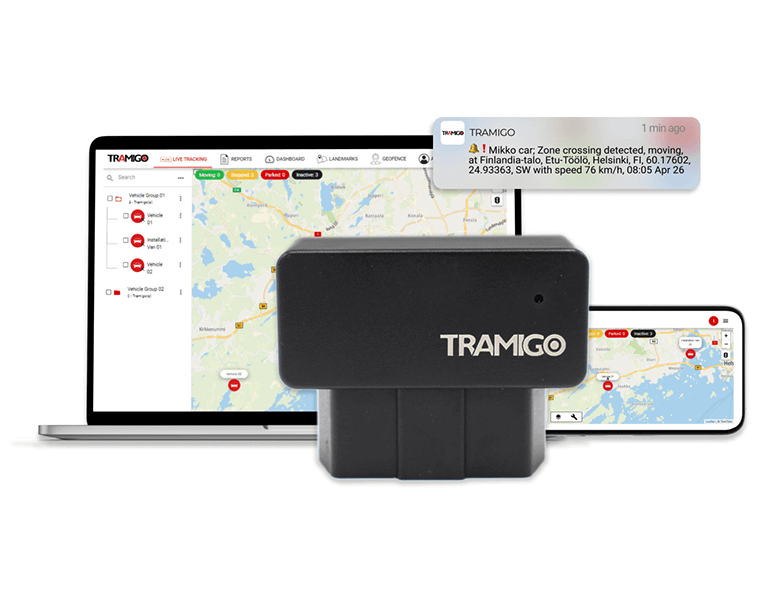 OBD STANDARD FEATURES

TRIP HISTORY
Keep track of the vehicle's route, distance, and date and time of trips

SPEED ALARM
Set speed limits and receive notifications when drivers exceed limits

LIVE TRACKING
Real-time view providing the vehicle's exact position

eSIM INCLUDED
Tramigo's embedded multi-network connectivity

TramigoApp
Track your vehicle from anywhere using the user-friendly app

GEOFENCING
Create a virtual boundaries that trigger an alarm when a vehicle leaves or enter the created zone

OBD connector
Plug and play connection ready in seconds
Easy Plug&Play

Installation
Buy device with ready-to-go built-in eSIM connectivity – no installation required simply plug into your vehicle's OBD port
Accessable with

app or cloud
Use TramigoApp to add your device to your account and start tracking
12 months

data included
A year of multinetwork connectivity included after which you top up your connectivity data package online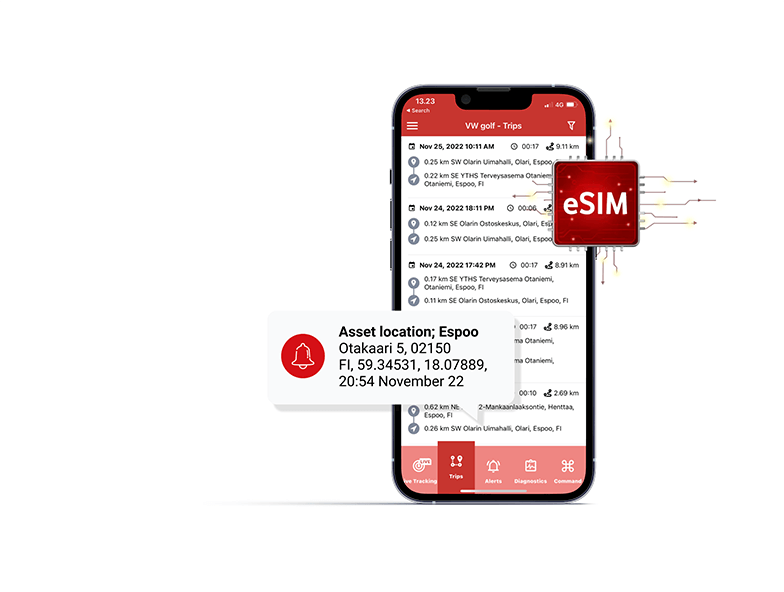 Embedded connectivity

Tramigo eSIM
SIM cards designed to be used in IoT hardware solutions on 2G, 3G, 4G, 5G or CAT-M1 networks. 
Tramigo IoT SIM provides seamless multi-network and cross-border connectivity. 
Our IoT SIM option provides widest global coverage and the data plan rates have been optimized to be highly competitive across different continents. 
Contact us for more information about Tramigo IoT SIM and Connectivity
Tramigo OBD Standard product specifications
---
Hardware specifications
Size: 49 mm x 48 mm x 22 mm
Weight: 58 g
Backup battery: Li-Polymer, 60 mAh
Operating voltage: 8V to 32V DC
Operating temperature: – 20 to + 80 ℃
Operating temperature: – 40 to + 80 ℃ for storage
BLE: support BLW 4.2 protocol
GNSS Specifications
GNSS type: u-blox All-in-One GNSS receiver
Sensitivity autonomous: – 147 dBm
Hot start: – 156 dBm
Reacquisition: – 160 dBm
Tracking: – 162 dBm
Position accuracy: autonomous 2.5m
Cold start: 27s average
Warm start: 27s average
Hot start: 1s average
GSM
Frequency: 850/900/1800/1900 MHz
Data Transmission: GPRS multi-slot class 33
EDGE multi-slot class 33
OBD Standard FAQ
---
Where can I find the OBD port in my car?
The OBD-II port is usually located under the dashboard, beneath the steering wheel. However, depending on the make and model of the car, finding the OBD-II may or may not be easy to locate.
Do I get notified if the OBD tracking device is pulled out/disconnected from the OBD port by someone?
Yes, the Tramigo OBD Standard comes with a built-in internal battery. The battery automatically charges when the power is on and if disconnected it alerts if the device is pulled out.
Does the OBD support Geofencing functionality?
Yes, Geofencing is supported. Use your TramigoCloud or TramigoApp to configure your preferred zones or areas. After configuration, you get notified as the vehicle enters, leaves, or overspeeding in these zones.
I have a fault code on my dashboard. Can I use Tramigo OBD Standard to reset DTC codes?
Resetting DTC codes are not supported by OBD Standard. To reset Diagnostic Trouble Codes you will have to acquire Tramigo OBD Premium.
Can I get notified or alerted if the driver is over speeding?
Yes. You can get notified and you can also adjust the speed limit, which would report an overspeeding.
Will the Tramigo OBD Standard be visible in my car?
Tramigo OBD Standard is a small device, however, if you wish secure installation you can consider purchasing Tramigo OBD extension cable separately.
Are there any additional costs if a vehicle drives to another country?
No. Tramigo OBD comes with built-in Tramigo eSIM with multinetwork connectivity across 194 countries. Tramigo connectivity packages are tailored to cover the markets specified by the customer. With the multinetwork support your device would simply join the network of the new area you are moving in without additional costs.