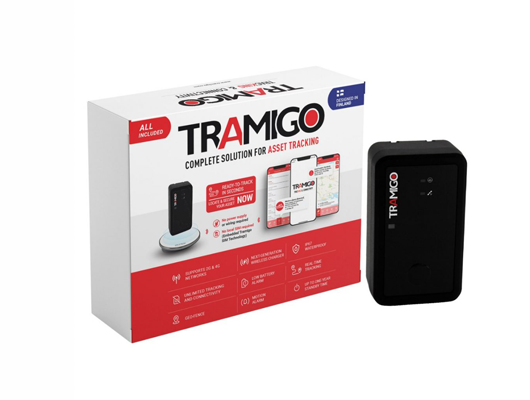 Tramigo GPS Asset Tracker technical specifications
The perfect solution to keep track of all your valuable assets.

About Tramigo asset trackers: Now available online at the Tramigo webstore, the new asset trackers have been developed with durability and convenience in mind. Housed in a compact and durable hard plastic housing protecting the tracking device against dust and liquids means you can safely attach your tracking device to containers, equipment and moving vehicles like construction equipment, motorcycles or even the undersides of cars. Coming soon to the store is also a very exciting magnetic attachment accessory (sold separately) that enables securing the tracker to any metallic surface in seconds.

Equipped with ultra durable built-in battery with operational time extending up to one year gives you the total operational freedom when you need it. The asset trackers also ship with a wireless charger (included in the sales packaging) that makes rec-charging very convenient.
Tramigo asset trackers come with global multi-network connectivity thanks to the built-in e-SIM meaning you simply activate and pair your device with your mobile phone using the TramigoApp and you are good to go. Tramigo connectivity is available in regionally optimized packgaes and typically sold for a fixed 12 month prepaid pricing model so there are no additional hidden fees like monthly data charges or surprise activation fees. Contact Tramigo to inquire which kind of regional coverage would be the most cost effective solution best suited for your needs. Tramigo connectivity provides you with reliable multi-network coverage meaning your device automatically always connects to the best network available to ensure stability of signal. See also the GPS Asset Tracker product page.

Tramigo GPS Asset Tracker technical specifications
Dimensions
3.43"(L) x 2.01"(W) x 1.18"(H)
87mm x 51mm x 30mm

Weight
5.29oz (150g)
Backup Battery
Li-Polymer 3.7V/2400mAH
Standby Time
Standby current: < 50 µA
1 report per day: 1 year
Charging Method
5V/1A wireless charging
Waterproofing
IP67
Totally resistant to dust
Protected against temporary liquid immersion
between 15cm and 1m.
(duration of test 30 minutes)
Operating temperature
-25℃ ~ +60℃




Command Set
@Track protocol command
Transmit Protocol
TCP, UDP, SMS
Working Modes
Power saving mode for long standby time, Continuous mode
Scheduled Timing Report
Report position and status at preset time intervals
Geo-fences
Support up to 5 internal geo-fence regions




Low Power Alarm
Alarm when internal battery is low
Wakeup Report
Report when the device wakes up
Motion Detection
Motion detection based on internal 3-axis accelerometer
Reporting Frequency Adjustment
Intelligent adjustment of reporting frequency