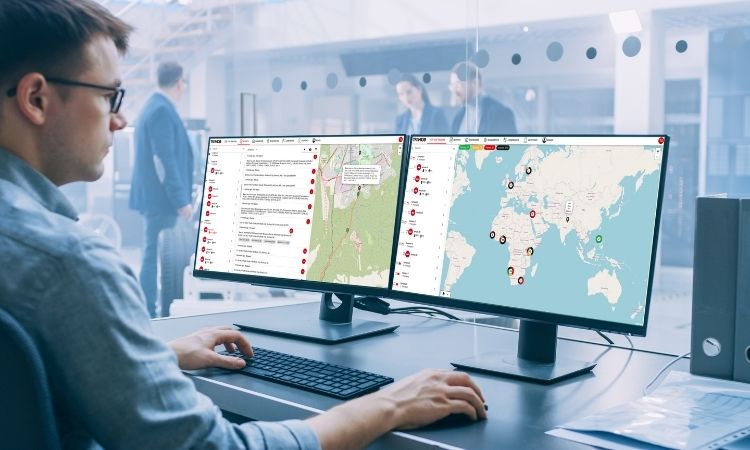 Best Fleet Management Software: Tramigo Cloud vs. M1 Fleet Enterprise
With Tramigo fleet management solutions you have the added flexibility of being able to choose between something called cloud-hosted solution and self-hosted solution. With advanced solutions involving complex technology, you may understandably find yourself getting confused with the terminology and technological factors. It is essential to be able to clearly differentiate between the available hosting options to ensure you can make the best choice for your organization.
The purpose of this article is to summarize the key points regarding the TramigoCloud and the M1 Fleet Enterprise fleet management software solutions so that you can confidently make the right choice for you.
Let's discuss the basics of these systems before diving into their differences: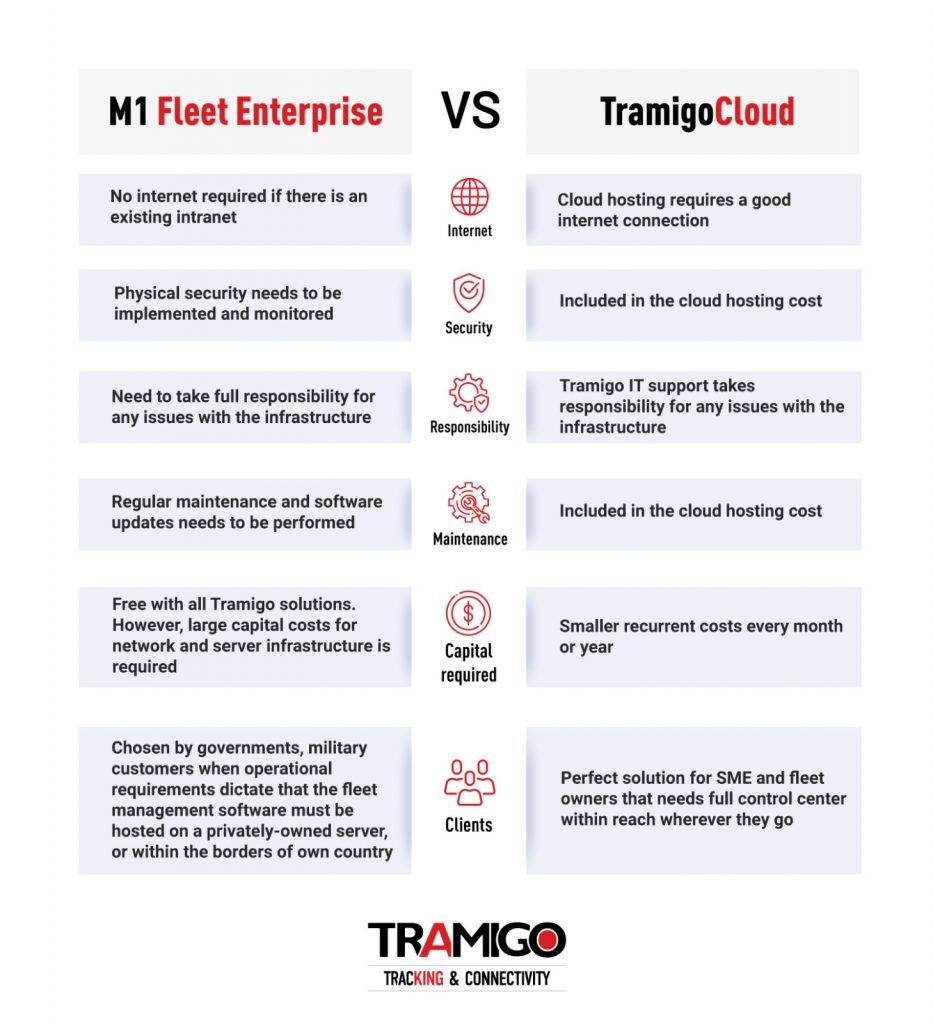 Overview of TramigoCloud
As the name suggests, TramigoCloud is a cloud-based hosting solution for efficient and reliable fleet management. Cloud is a reference to the way in which the software features and functionalities are delivered. With TramigoCloud the service is delivered and accessed over the internet as a turn-key model and all the infrastructure and hardware required to operate the software are managed and updated by Tramigo.
TramigoCloud is developed and provided by Tramigo to make sure the users can conveniently access all of the latest fleet management features on any device that is connected to the internet.
The fleet management software allows fleet owners to easily track and manage their fleets with the help of a safe and secure control center. With centralized updates automatically provided by Tramigo, users are able to get the latest features immediately after they are released.
Overview of M1 Fleet Enterprise
M1 Fleet Enterprise is designed to bring the full features of enterprise vehicle tracking and fleet management software to a privately hosted environment for users to manage their vehicle fleets.
It is best suited for organizations that require the control ans security elements onlky achieved through a locally hosted server infrastructure. By choosing a locally hosted option organizations essentially have made the decision to control every aspect of their system and data for any given reason. In this case, Tramigo provides the software and the users install it on their environment, typically physically located within the organizations own premises. Such a closed system gives organizations an extra layer of security and control but also means that they must provide all the computer infrastructure required to run and operate the software.
Differences between Tramigo Cloud and M1 Fleet Enterprise
The primary purpose of both Tramigo Cloud and M1 Fleet Enterprise is to provide useful and reliable features for fleet management. By design, there are significant differences between these two solutions to meet the specific requirements of their designed use cases :
Hosting
Tramigo M1 Fleet Enterprise is a self-hosted solution where the software is installed and operated on machines typically owned by the user. This means that the software resides on the user-designated computers and the hard disks within, this is a way to make sure that no data is transmitted across national borders for processing for example. Communication can be either using network data connection or offline tracking with an external offline modem.
TramigoCloud is a cloud hosted software solution for fleet management provided through a Software as a Service (SaaS) model. It means that instead of installing and maintaining software on your personal or company machine you simply access it via a URL using your secure username and password freeing yourself from complex software and hardware management. It also means that while each TramigoCloud user's data is processed within that users own specific account physically data will cross national borders as the software is hosted and operated on a central Tramigo EU hosted server.
Another noticeable difference in the technology of these alternatively hosted fleet management software options is that you can efficiently operate M1 Fleet Enterprise without the internet. However, high-speed internet is necessary to use all of the features of Tramigo Cloud effectively.
Set-up
Since both Tramigo Cloud and M1 Fleet Enterprise are designed for the needs of enterprise fleet management, both systems provide a similar set of features and benefits. However, a local hosting solution like M1 Fleet Enterprise is significantly more expensive to set-up than a cloud-based solution like TramigoCloud. Setting up M1 Fleet Enterprise requires an entire infrastructure to be available/bought and installed and maintained by IT specialists. Stable and efficient operation also requires a highly technical system administrator. TramigoCloud on the other hand was designed to deliver customers with all features and benefits of a top-end enterprise fleet management software system without any of the large upfront payments or complex server set-up and maintenance requirements. There is no need for technical specialists to operate and maintain the software and organizations can instead focus on managing and operating their fleets through the user friendly and easy to user interface of TramigoCloud.
The TramigoCloud architecture of providing fleet management through a Software as a Service is the modern way which allows companies to focus on their core operations while essentially outsourcing the technical details to a provider. However large-scale organization like corporations, governments, and the military whose strategies require a specific emphasis on complete privacy and security at the highest level are unable to choose established cloud based solutions due to their own policies which state that they must control each dimension of their operations themselves, including location data for example. This is why these organizations prefer to choose M1 Fleet Enterprise for its unique privacy features.
Investment (Total cost of ownership)
Tramigo M1 Fleet Enterprise is free with all mission critical fleet management solutions, however, large capital costs for network and server infrastructure is required. Tramigo provides customers with installation and training according to each customer's needs throughout the software adoption to ensure transfer of knowledge and secure operations. This also means investment in time and resources to ensure the organization's staff are properly prepared and trained.
In contrast, there is a very low barrier of entry related to the adoption of a TramigoCloud fleet management software solution as there are no initial fees and only a smaller recurring monthly or yearly payment.
The bottom line is that you are always able to choose the best fleet management software depending on your specific requirements. Generally, cloud-based solutions have become highly popular due to their features like affordability, scalability, and quick and easy accessibility.
For the majority of the companies, Tramigo Cloud is a highly efficient fleet management solution. However, governments, military facilities, and other large-scale enterprises should consider M1 Fleet Enterprise to ensure maximum security and privacy.