Mission critical
fleet management solutions in Africa
Manage operations and improve efficiency. Ehance Security. Boost profitability.
Demanding conditions &

Ultra-long distances
Securely transport your valuable cargo across regional and national borders in Africa.
Operate over tough roads and across unreliable network conditions. Ensure your drivers, cargo and fuel are safe. Manage routes, time schedules and equipment. Improve customer satisfaction.
With over 15 years of history on the African continent, we understand the uniquely demanding challenges your business may face on a daily basis. Such conditions require Mission Critical capabilities which Tramigo can deliver military-grade reliable tracking hardware for heavy trucks, software giving full control and a SIM card solution that has multi-network connectivity to provide seamless real-time tracking even in tough conditions.
Tramigo Mission Critical Fleet Management Solutions have several industry unique features to ensure both a broad spectrum of use cases as well as high customer satisfaction and ultimately peace of mind.
Seamless real-time tracking
for cross-border transportation and alerts

when you most need it.
Tramigo's
complete mission critical fleet management solutions
Your optimal choice for securing operations throughout Africa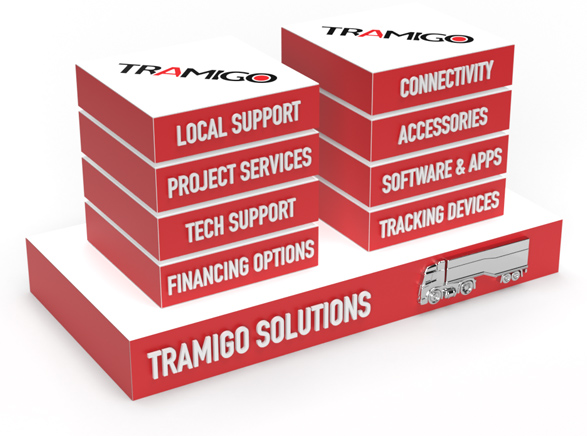 Tracking devices
The best in the business with the longest warranty in the industry. Embedded with intelligence and built to last.

Software and apps
Full range from full privacy and control to cloud convenience and mobile.

Accessories
Customization capabilities to meet your specific needs, from security to fuel management.

Connectivity
Multi-network connectivity for seamless cross border communications.

Tech support and service
Technical proficiency and multi-language customer service built on decades of experience at your disposal.

Project services
Custom project development and support. Let's innovate and build the future together.

Network of local teams
A true partnership means access to local resources when you need them the most.

Financing options
Low interest cost payment instrument options for large fleet owners. Wide range of local currencies accepted.
Seamless real-time tracking
for cross-border transportation and alerts

when you most need it.
Tramigo is a IoT tracking and connectivity pioneer/manufacturer with global presence since 2002. The Group headquarters are in Finland, but Tramigo operates globally with sales, support, and operational staff on all continents providing complete life-time support for its end-customers and authorized resellers.