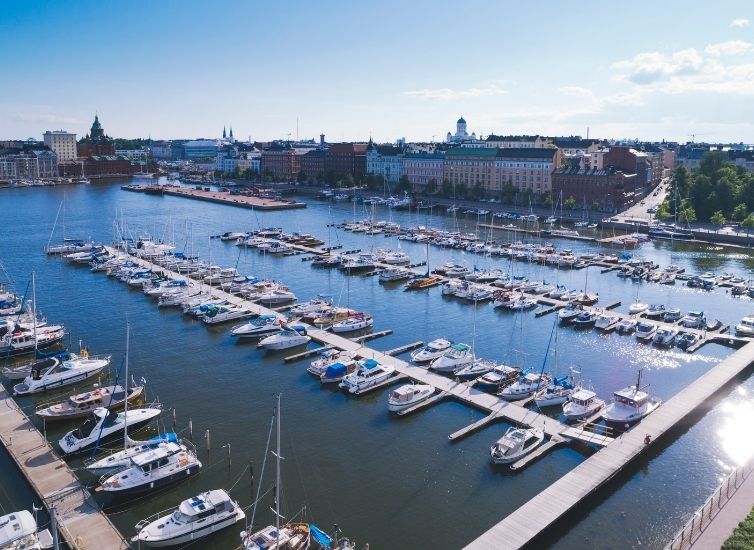 Tramigo Case Study: Boat and Boat Trailer Tracking
Boating has been on a steady rise in popularity in Finland with it having one of the highest numbers of boats per capita. There are 1.2 million boats in Finland and only 5.5 million people which means a boat to every four or five people.
Boating is a national pastime in Finland and boat owners face a common problem throughout the year. Boats and trailers used for fishing trips or commuting to remote locations can sometimes be stored for several months when not in use. With boats being high-value assets, owners regularly make the tiring journey to check on their boats and ensure they have not been damaged or stolen. But locating boats in these remote regions can be challenging. That is especially true for boats co-owned by multiple people, who may forget the precise location the boat was stored.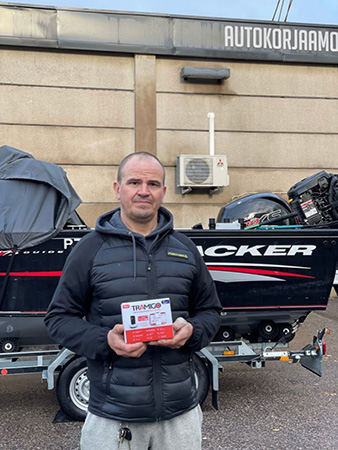 One such boat owner is Harri Hinsta: a fishing guide entrepreneur based in Helsinki.
Harri, like other owners, must make the difficult trek to each of his boats and trailers. But doing so regularly, even as the snow thaws in early spring, is challenging and time-consuming. Nor can boat owners be present 100% of the time, creating an opportunity for the boats to be stolen. With boats costing thousands of Euros or more, the loss of such an asset can sink smaller or struggling businesses.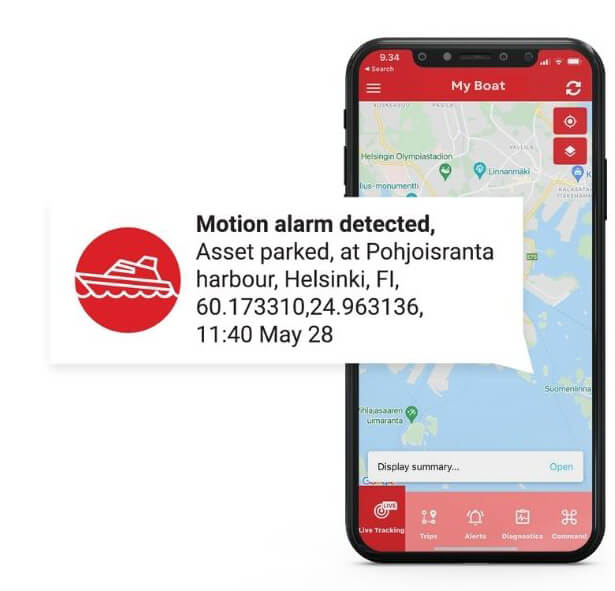 Harri Hinsta found a solution by installing Tramigo Asset tracker in both the boat and boat trailer. Using Tramigo's GPS tracker, boat's locations are updated daily, providing owners with reliable information throughout the year.
No longer is there a need to check in on boats regularly just to see if it is still there. In case of any sudden movement with the boat or the trailer, Tramigo asset tracker automatically detects it, and the owner is notified via a warning sent to TramigoApp or email. In. addition, if a boat or a trailer is stolen, through TramigoApp, owners can track down their boat. Tracking works reliably even if the boat crosses over Finnish borders. That's thanks to the embedded Tramigo eSIM in the device set up with regional connectivity, meaning you securely receive your signal even if the asset (in this case boat or trailer) is transported across the border to a neighbouring country. This is not only very helpful when it comes to the retrieval of your valuable item, it also deters potential boat thieves who are becoming increasingly aware they may be being tracked. Furthermore, this boat tracker is also small and compact so that it can be readily concealed.
So, what features are most appreciated about the Tramigo Asset tracker?
Well, just as there's no need to check on the boat, there's also no need to recharge the boat tracker. Every Tramigo Asset tracker comes with a built-in battery that lasts up to one year (depending on the reporting frequency). Plus, the hardy device is IP67 waterproof, meaning it can withstand almost any weather condition. Rain or snow, the boat tracker will keep functioning and reporting.
Best of all, for owners relying on their boats for work, the Tramigo tracker guarantees peace of mind. So that, come summer, they know their boats and trailers will be there waiting.
No more long treks. No more forgetting the boat's location. Whatever the asset you want to track, the Tramigo Asset tracker is a reliable and safe solution.
The Tramigo asset tracker is available for purchase online at the Tramigo online store. Tramigo offers the device as a complete solution, where the purchase price of 169€ includes the IP67 waterproof tracking device with the built-in eSIM, a wireless charger, activation code for the software and 12 months of unlimited usage. After the first 12 months a subscription can be renewed for the price of 38€ / year.
To better understand the Tramigo asset tracking solutions please visit the asset tracking solutions page for more information.